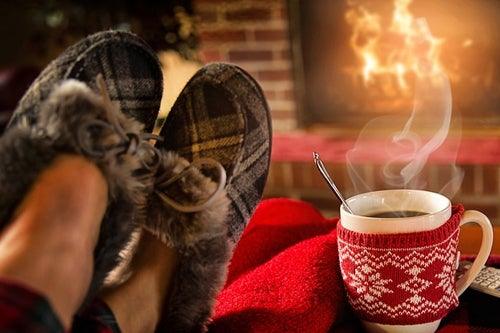 If you are a person who loves to sip on something with flavor in the evenings, including just before you go to bed, you want to limit the caffeine and alcohol intake.  Both of those drinks can adversely affect your ability to have a good night's sleep. Here are a few night time sipping options to enjoy.
Of course, there's always water or a low-cal drink like Crystal Light in many flavors, but there are quite a few more appealing options for you to consider.
Teas:
Herbal and green teas with little or no caffeine are great; you can even make your own from dried herbs like spearmint, basil, or sage which have an earthy flavor.
If one of your favorite evening sips is a heady wine with earthy undertones, herb teas can be a great option. Get a thermal coffee mug or double walled tumbler to keep your drink hot longer, or make it extra strong and enjoy it over ice with a sweetener of choice. Add some lime or lemon slices, or freshly grated ginger, cinnamon or nutmeg to enhance the flavor.  Simply by experimenting with various ingredients, you will find a combo you especially like.
If you want tea just before bedtime, there are a few options like chamomile, rooibos, mulberry leaf or yerba mate, which don't release tannins, and the leaves can be steeped multiple times. These teas that actually help you fall and stay asleep. They do that by increasing the amount of glycine in your system which heats up the system and then forces your body to send out signals to rapidly cool down. The cooling signals your body that it's time to sleep. However, stay clear of teas that are used for detoxing. Those tend to amp up the system and are not conducive to rest afterward.
Juices
You don't want to have a lot of fruit juice in the evening since the sugar content may make it more difficult to sleep, but mixing a juice with intense or tart flavor (100% that juice) such as Concord grape, pomegranate, acai, or cranberry with some tonic water or diet lemon-lime drink and ice should give an intensive burst of flavor without too much sugar.
V8 Fusion has some fun blends that include both fruit and veggies in the juice, so you get stronger flavors. Just watch the sugar content, or mix it with something like Crystal Light Lemonade.
Other Drink Options
Heated apple cider or a mellow hot chocolate can be good options, especially in the fall and winter when you want something hot inside as well as in a cup to wrap your hands around.
If you still want a little bit of an alcoholic kick, try club soda with a few drops of aromatic bitters. These bitters come in a variety of flavors, and they are so intense that it only takes a very small amount to go with a large glass of club soda on ice (or not) to make it feel like you're kicking back with a flavorful dark bill or full-bodied wine. You can also just have the club soda or seltzer water with some freshly squeezed lime and muddled herbs for a similar effect without alcohol.
There are lots more possibilities, but the above list will give you a jumping off point. Your choices are as limitless as your imagination.  If you have a favorite green tea – matcha or maybe a chai, and you want a strong flavor, just leave the tea steeping in water right after it has gotten to a full boil. The longer it sits, the stronger and bolder it will likely taste.
Whatever you choose … sip it slow and savor those moments.