Popular wellness tea company, UENDURE, announces the introduction of Enduring Wellness, Organic Herbal Menopause Relief Tea, a special blend to assist women dealing with the discomfort of menopause symptoms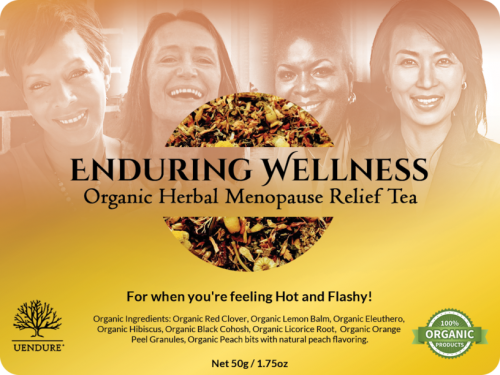 October 21, 2020 —
Robin Boykin and her team at UENDURE have again reiterated their goal of helping as many people as possible to leverage the benefits of teas to improve their health with the launch of a new blend to tackle the discomfort of menopause symptoms. The company's increasing popularity in a relatively short while can be largely attributed to their range of premium quality tea blends formulated based on the principles of Traditional Chinese Medicine (also referred to as TCM).
"This lavender tea is my favorite so far. I have always loved drinking Rooibos tea when I'm sick, but finding this one with berry and lavender feels like luxury! Thanks for giving me a new nighttime drink!"
Tea remains one of the most consumed beverages in the world. Teas have not only become popular for their great taste, as tons of people across the globe also seek to enjoy their health benefits. Over the years, the use of wellness teas has exploded, with brands across the globe formulating blends to meet the diverse needs of consumers. One brand, UENDURE is looking to help people enjoy the benefits of great tasting teas, with the company shifting focus to women battling with the symptoms of menopause.
Menopause is inevitable and while the condition is not an illness, the hormonal changes associated with that phase of the feminine life can trigger symptoms ranging from mild to severe, sometimes leading to discomfort and distress. Unfortunately, many of the orthodox medicine solutions are often short term and sometimes come with harmful side effects, a phenomenon UENDURE is looking to correct.
The newly formulated blend from the tea company wants to ensure that women suffering from menopausal discomfort get relief from natural ingredients that have been identified to deliver overall health benefits. This special blend, like other products from the brand, is made with premium organic loose leaf tea, helping the body to adjust naturally to the new phase and strengthening the system to effectively handle the discomfort that comes with menopause symptoms.
For the first time, customers of UENDURE will have the option to choose between loose leaf and a biodegradable tea bag, exclusive to this blend. This is to ensure that relief is readily available and the tea is convenient to consume under any circumstance, allowing women to have their favorite tea even when out to dinner as long as there is a cup of hot water available.
In addition to providing amazing and healthy teas that are beneficial to the wellbeing, UENDURE also offers a wide range of eco-friendly and sustainable tea accessories to enhance the drinking experience of every customer.
For more information about the newly created special blend and other products from UENDURE, please visit - https://www.uendure.com. UENDURE can also be found across social media, including Facebook, Instagram, Twitter, and LinkedIn.
About UENDURE
UENDURE was acquired in 2018 by Robin Boykin, a tea lover, following a visit to a Traditional Chinese Medicine practitioner to seek healing for her deteriorating health. Since then, she has changed the trajectory of the brand by leaning in to embrace the wellness industry. Robin aims to share the miracle of natural remedies inherent in teas with society, by helping to address a wide range of common ailments, including heart disease, depression, anxiety, obesity, and diabetes, among others.
Contact Info:
Name: ROBIN BOYKIN
Email: Send Email
Organization: UENDURE
Website: https://www.uendure.com/
Release ID: 88981648