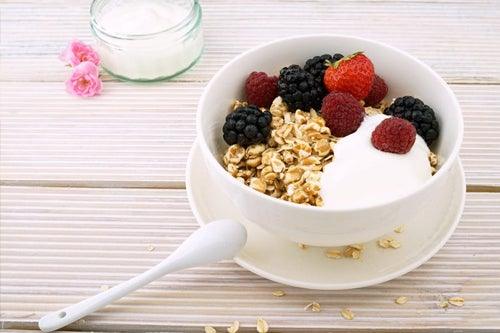 Healthy breakfast options can feel limiting sometimes, you already know a few options but sometimes long for something just a bit different, something yummy without destroying your healthy eating habits entirely. Here are a few ideas to add or change up your usual breakfast.
Overnight Oats
We know you've had oatmeal for breakfast for years, and it may not seem like something new and amazing, but have you tried overnight oats? You make them in individual servings, and they can keep for a couple of days in the fridge … the basic healthy and high fiber version goes like this …
½ cup rolled oats

1 teaspoon chia seeds

2/3 cup unsweetened soy or nut milk

1 teaspoon of sweetener (maple syrup, raw honey, or Stevia)
You can have them just with that … put in a mason jar or similar container and in the fridge, they'll be ready in the morning … but you can jazz these up to your heart's content. Just add some of your favorite things such as unsweetened coconut, nuts, nut butter, dried fruits, berries, chocolate chips, cocoa powder … meaning you can have a healthy filling breakfast to go with your favorite morning tea, like Matcha tea and a taste of decadence too.
Frozen Bananas
Bananas are full of nutrition and as one of the most consumed fruits that are available year-round, this is an awesome breakfast treat option. 
Take a couple of fresh ripe bananas and cut them into chunks. Then freeze them. You can enjoy the frozen bananas as-is once they are frozen, or you can run them in the blender with one or two of your favorites, like vegan vanilla protein powder and 1/4 cup of non-fat milk. You can also add organic matcha powder to create your own version of healthy ice cream to enjoy with your morning tea.
When it comes to options, the sky's the limit. Any of your favorite flavors can be added. Try adding some frozen raspberries, orange juice, and/or pineapple slices with your favorite collagen powder and a little coconut, soy or nut milk.
Or instead of making ice cream, try rolling the softened bananas in unsweetened and toasted coconut, crushed nuts or mini chocolate chips before you freeze them for some added texture and flavor.
Protein Balls
Again, the beauty of this idea is you can take the basic formula and make it fit what will satisfy your desired flavor for the day.  Here's how you start …
1 cup raw nuts

1 cup dried fruit (raisins, dates, apricots, etc.)

1 ½ scoops protein powder (with about 35 cals to a scoop)

1/8 teaspoon sea salt
Directions:
Blend almonds in food processor until they become nut butter. Add fruit and mix until the texture is smooth. Then add protein powder and mix until it becomes the consistency of cookie dough. Now add your favorite topping. Simply roll them in shredded coconut, crushed nut pieces, and other toppings of your choosing. Be creative and try with more exotic toppings like chia seeds.
Try different flavors of protein powder and different fruits on different days. Mix it up as much as you like. The basic recipe yields about 50 calories per ball if you make 24 balls. This is one excellent way to enhance your tea drinking experience.
With these three basic ideas, the options are limitless and they basically will work any time of day or whenever you are enjoying your tea.  This is a wonderful way to de-stress and enjoy an extra special few moments of tea time.