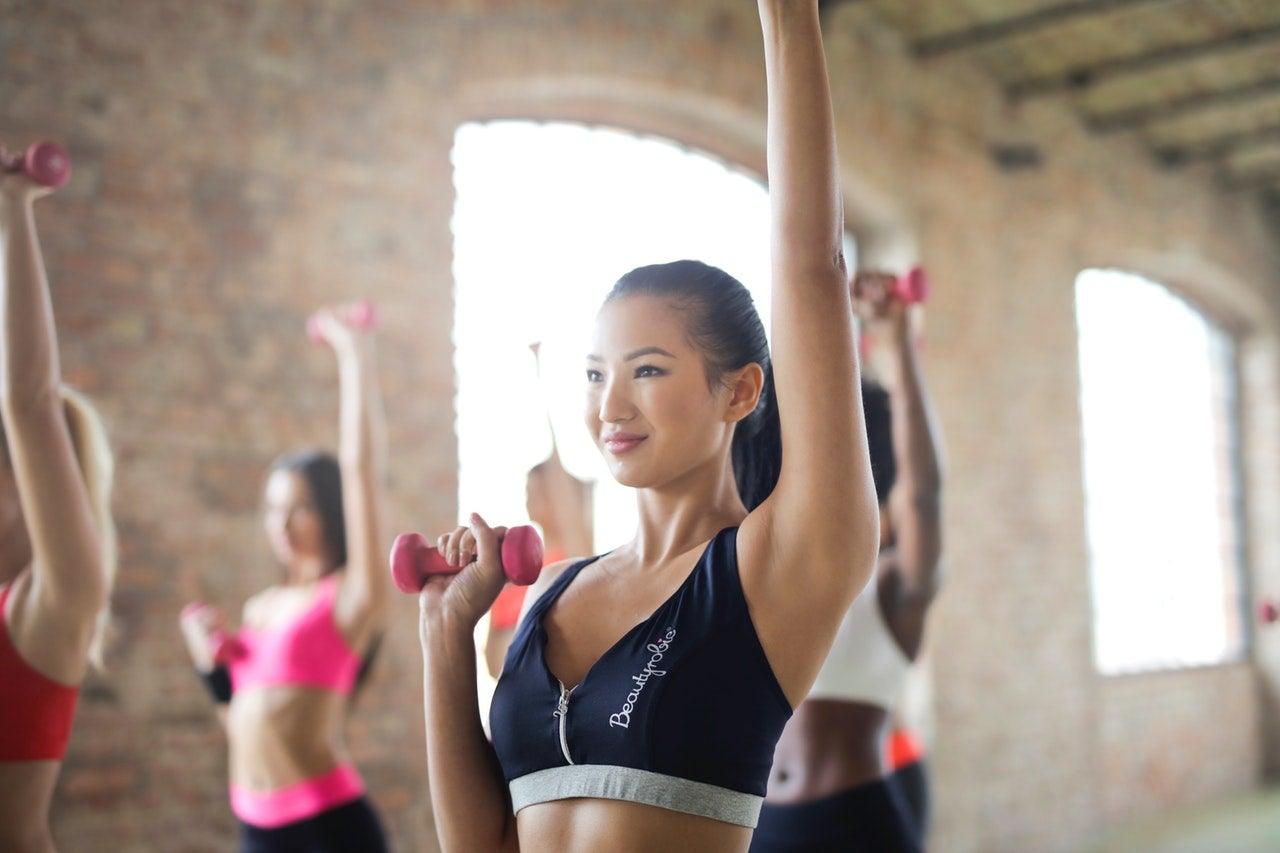 It's never too late to get your body in shape
Every January we hear of people who want to lose weight or get in shape, but halfway through the year they are done; they're tired and have forgotten about their fitness plans or even worse, they've added a few extra pounds.
A recent study shows that less than 3% of all Americans meet the criteria of what is considered healthy.
According to the health and fitness experts, there is a standard  criteria to follow which demonstrates how fit you are:
A total workout session of 150 minutes per week
A score of more than 40 percent on the healthy eating index sheet
Body Mass Index (BMI) of less than 30 percent for women and less than 20 percent for men
If you don't meet any of the criteria above, this is a great time for you to get started. And believe me, you are not alone in this journey.
So if you are ready to change your sedentary ways and get your life and body in shape, we have compiled 25 great tools we think you will find useful to get you off to a great start.
The Products
Okay, so it's not a workout tool. However, sleep is an essential part of losing weight. When you are well-rested you wake up with enough energy to carry you through the day. Consumer Report 2019 found that about 70 percent of the US population suffers from sleep deprivation which in turn affects their lifestyle and how much weight they gain (or lose). Lack of sleep also produces cortisone which contributes to that flabby spare tire around the belly.
If you suffer from sleep problems, this sheet can help you fall asleep; it works by converting your body's natural heat into energy that is returned into your system as healing energy while you sleep. Although this sheet is still new on the market, it is a great product for people who love to exercise. 
This product by Lululemon is not only great for yoga but also helps you with your floor workout.
Whether you are a long time yogi, or just starting out, this mat incorporates perfectly into your daily fitness activity. It is also an excellent way to stretch your body, improve your posture, and prevent slipping during exercise.
Don't let the aches and pains discourage you from working out, instead invest in the Elite Muscle Roller stick and massage the pain away in the comfort of your living room. This product promises take away stiffness in your muscles, knots, and isolated pain better than any other product on the market.
If you have enough space in your home, then the Peloton cycling bike is the best get-in-shape product. It comes with an instruction screen that allows you to follow a class and burn some serious calories without stepping a foot outside your home.
These headphones will not help you get in shape, but listening to your favorite music will motivate you to exercise. The earpiece comes with 12 hours of battery life that will last well beyond your workout without any breaks. If you want to achieve your workout goals while jamming, this is the headphone for you.
Working with weights is the best way to burn some serious calories and build muscle mass. However, if you don't have space for a whole stack of dumbbells, then the Bowflex adjustable dumbbell is the right product for you. The weights range from 5 pounds to 52.2 pounds allowing you to work your way up.
Resistance bands are not new but are the best fitness tool to start your exercise routine as a newbie and work your way up to pro status. They are lightweight, and they allow you to workout anywhere. Traveling with them is a breeze.
Well, let's be truthful, there are days we need a little encouragement, and reminder to get off the couch. Fitbit Charge 3 is a special gadget that will keep you motivated. It is waterproof; lightweight has enough storage space to keep track of your fitness activity.
Lose inches around your arms, waist, and whole-body while indulging in a childhood activity memory. The weighted hula hoop is a great workout that can be quite enjoyable while you're at it.
Now you can mix your workout sessions and the duration with the fitness dice. They have different workouts written on them while others give you the duration of a workout. The idea is to shake the bag, stick your hand in and pick the dice for the day's workout and duration. The variety can help keep your workouts interesting.
Sign up for a kick-boxing class.  Boxing gloves will give you a serious arm and body workout as you let out all of the day's frustration. It is a great way to get in shape at home, outside in the fresh air or in a gym.
How many times have you slipped while trying to balance yourself during an exercise class? It can be really dangerous. To avoid potential serious injuries, these anti-slip socks will keep you on the spot and allow you to enjoy your workout routine without the added embarrassment of a slippery fall.
You are what you eat and drink, and water is a good way to get in shape. The SodaStream Fizzi sparkling water maker will infuse your regular water to give it that same sensation you get when you drink soda, without all the extra sugar.  So if you are trying to cut sugar from your diet, this water maker will be a great help.
A part of getting in shape is the post-workout recovery. Most times when we are finished with our workout, we ignore the soreness and pains to continue with our regular work.
PowerDot is a small, lightweight device with pads that you can attach to the aching muscles while on the go, and by using your smartphone you are able to adjust the level of stimulation to relieve all kinds of aches.
This is good for all athletes, gymnasts, and fitness nuts to who like to 'go hard.' Your recovery time will be greatly reduced.
Sometimes the scale discourages us as we work our way to a healthier us, but there is an app that will allow you to know how well you are doing or not doing. This app is compatible with iOS and Android devices and allows you to calculate your body fat.
This scanner can measure the fat in 24 different parts of the body, giving you a better idea of how effective your workout really is.
Full Body Workout Balance Board
Get more definition in your leg, abs, back, and booty with the balance board. It allows you to tone every part of your body. The board builds strength, improves balance and posture while keeping your core engaged in a fun exercise regimen.
It is super light, durable, and compact. It comes with a workout DVD on how best to utilize it for excellent results. 
Staying hydrated during your workout is a must, and keeping tabs on how much water you are drinking. The 16-ounce bottle is BPA free and provides a smart reminder to drink water at the appropriate time. The bottle has an in-built rechargeable battery and uses Bluetooth to sync with your phone ensuring you are hydrated even when your bottle is far away from you.
Kettlebells are not new in the fitness world, but they will give you a full-body workout and are a great way to compliment your regular exercise routine. Kettlebells help you tone and get in shape faster as you lose weight. Weights range in all sizes for you to build your body strength as you progress in your exercise. Some exercises you can perform with the kettlebell are squats, deadlifts, arm and shoulder workout, and swings.
Get the best upper body and core workout with this multi-grip bar. They are difficult at first, but once you've gotten the hang of it, you will never stop using it. The bar can fit into any strong doorway and hold up to 300 pounds without damaging the door frame.
Agility and Speed Ladder
Get your cardio workout on fleek with the speed and agility ladder that is definitely guaranteed to make you sweat and lose a couple of inches along with those extra lbs.  The ladder workout is an exercise routine used by athletes and many footballers use it to get that toned and firm body we all love to see on TV.
For people that love fitness, the balance ball allows you to achieve stability, balance in all your workouts while targeting specific areas on your body. The balance ball can be used anywhere – at home or in the office. It serves as a support system for other exercises or the base for one, either way; you will get a good workout and get in shape faster.
This is the best cardio training to get you in shape in the shortest possible time. Jump ropes are not just for kids. When done properly, jumping rope offers a good workout for toning the arms, abs, and legs.
The survival jump rope is great for speed training and comes with an adjustable handle for people of any shape or size to get the best out of their workout.
Exercise Shoes
Shoes are an important part of any workout. Well-made comfortable shoes will ease your workout flow and help you achieve your weight loss goal. However, if your shoes don't fit properly, then you might find yourself lagging behind and not able to complete your workout session.
Choose wisely on your next shopping trip. Be sure to get a pair that fit you properly. Give them a walk around, while still in the store before making the purchase.
Lululemon Leggings
These are a must-have for everyone, whether you are using them for exercise or meeting your friends, the Lululemon legging will slim your leg for that sexy look effortlessly. Furthermore, this legging is flexible and will NEVER rip.
They are great for both men and women; adding definition to your legs. They will not only help you shed weight, but the Lululemon Leggings will also motivate you to work out because you look so good in them.
Height AdjustableStanding Desk
Many people are getting acquainted with standing desks which were developed to counteract the ill-effects of sitting at a computer all day. 
The body is continually adapting to changes its environment, and even if you've spent the majority of your life sedentary, it is never too late to reverse the damage. 
Less than two minutes after standing up from an extended sit, blood flow begins to increase, the muscles and brain begin to get fueled once again, and metabolic rate increases by about 20%.
The cellular systems responsible for regulating blood sugar, triglycerides, and cholesterol also begin to come back online.
Bonus Tip - Take Tai Chi Classes
Tai Chi is an excellent way to get in shape, improve mental health, emotional balance, flexibility, control, endurance, breathing and the overall health of the student.
Tai Chi was a defense strategy used by the Chinese throughout the ages, but it migrated to the West decades ago, and is an excellent method for anyone that wants to get in shape and experience overall well being.
Tai Chi has also been known to increase blood flow to the skin's surface, causing your skin to be fresh and supple. It relieves stress and helps reduce the risk of depression and anxiety. Tai Chi can help build inner peace and calmness for people of all ages.
Furthermore, weight loss is also about what you eat, so as you pursue your ideal body composition, don't forget to eat good quality food by adding more organic vegetables, lean meats, and a moderate amount of carbs to your diet. Get the tools that help you practice a good food proportion too.  Now that we've shared some great tips on getting yourself in shape, we'd love to get your input.
Have some fitness tips of your own?
If you have any products, or methods to get in shape that you'd like to share, please drop a comment below. We would love to hear from you.
Here's to your health!