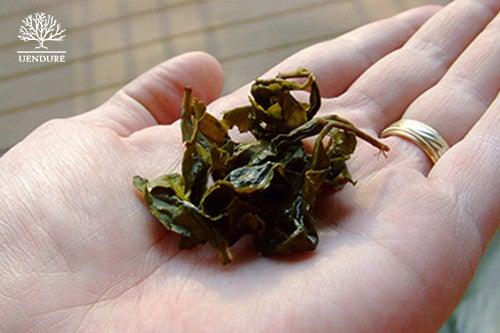 Oolong tea, originally known as Beiyun Tea, is an extremely popular Chinese tea dating back to the Tang Dynasty. It was widely known for its unique quality and flavor, and was commonly used as a "tribute tea" during the Song Dynasty. In time, Beiyun tea became known as Wuyi tea because of the Wuyi Mountain region it originated from. It grew in popularity and fame, and continued to be used as a tribute tea throughout the Ming and Qing Dynasties.
In the early 1700's, tea manufacturers took the traditional methods of making Wuyi tea, improved the process, and created what is known today as Oolong tea or "black dragon" tea.
Delicate Process
Oolong tea is a semi-oxidized tea that falls between the flavor of green and black teas. It is produced using multiple steps that are different compared to other teas. Depending on who's producing the tea, there's typically six or seven steps involved:
Withering – The leaves are picked and laid out under the strong sun. This draws the moisture to the surface of the leaves and begins the fermentation or oxidation process.
Bruising – The leaves are then shaken which bruises the edge of the leaves, creating further oxidation.
Resting – The leaves are allowed to rest and ferment. They begin to turn a darker green color and start to develop their unique flavor.
Fixing – The oxidation process of the leaves is stopped by placing them on high heat of a stir fry pan or baking oven.
Rolling – The leaves are rolled, twisted or curled, which shapes the leaf and intensifies the flavor.
Drying – All remaining moisture is removed from the leaves using hot air drying methods. This stops fermentation and develops the tea's aroma.
Flavors can vary due to the cultivation methods as well as the styles of production used. When oolong teas are being processed, much more attention must be paid to the temperature used as well as the timing. The final drying stage is considered to be the "art of making" the tea what it is.
Large Range of Flavors
Oxidation ranges for the oolong teas are typically from eight percent to eighty-five percent. This offers for a large range of innumerable flavors and fragrance options. Oolong teas can be fruity in flavor, to woodsy and roasted.
 Preparing Oolong Tea
Traditionally, oolong tea is served in small two ounce tasting cups. The water used for oolong tea should be brought to a boil and allowed to cool for two minutes. The leaves should be allowed to steep for 2-4 minutes and can be steeped up to 3-5 times. Although the caffeine level will decrease, Oolong is known to "get better" with additional steeping.
Health Benefits & Nutritional Value
Like other teas, Oolong teas hold high nutritional value and are rich in antioxidants. They contain calcium, copper, selenium, potassium, and a good number of other vitamins. Studies have shown that daily consumption of oolong tea may help:
Weight Management – A polyphenol compound found in oolong tea is known to activate certain enzymes which increase metabolism and enhance the functions of fat cells.
Healthy Skin – It's believed that the polyphenol compounds also help with healthier skin and relieving skin irritations such eczema and chronic skin problems.
Removal of Free Radicals – The polyphenols of oolong tea are particularly powerful antioxidants and have been known to stimulate free radicals in the body. This is known to reduce the risk of cancer, stroke, diabetes and arthritis.
Healthy Bones & Teeth – People who consistently drank black or oolong tea for long periods of time have been less likely to lose their bone mineral density. Oolong tea has been known to strengthen the bone structure and promote normal, healthy growth of the human body.
Drinking oolong tea is a wonderful way to follow a healthy Chinese tradition. Simply choose a relaxing flavor, prepare, and enjoy the benefits!