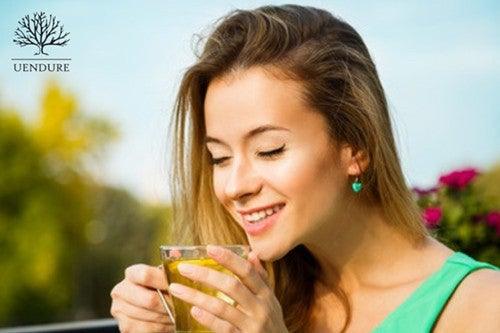 The habit of tea drinking dates back around 5,000 year, to a time when the drink was traditionally consumed as a delicacy by the highest aristocrats in China. Now, tea is actually the most popular beverage in the world after water. As incredible as it may seem, this substance has evolved to become a common part of the daily diet for around two-thirds of the world's population.
So, what makes green tea so popular? Well, it tastes delicious and refreshing for one thing - but the most important benefit of green tea is what it can do for your health. In fact, more evidence is constantly emerging that supports the idea that green tea might help you to fight back against cancer.
Japanese Green Tea: The Cancer Fighter
The antioxidants in Japanese green tea (specifically EGCG), contain plenty of "bioactive" compounds, which benefit our bodies in several unique ways. Specifically, polyphenols in green tea called "catechins", are considered to be responsible for many of the health benefits that we experience from this delicious drink.
EGCG (Epigallocatechin-3-gallate), makes up 60% of matcha green tea's catechin content, and it's the most effective antioxidant out there as far as health benefits are concerned - with studies showing that the substance is great for us, but toxic to cancer cells.
EGCG Inhibits Cancer Cell Growth
Cancer cells in the body grow when our cells break free of the typical cycle of growth and death that we move through every day. These cells mutate, giving rise to harmful and sometimes fatal tumors throughout different parts of the body.
EGCG, and other antioxidants within green tea act in very specific ways to limit cancer cell growth, and are considered to be an exciting new opportunity in the world of cancer-based therapies. The ways in which green-tea antioxidants prevent cancer cells from growing are two-fold:
First, these antioxidants limit the cellular levels of a protein called "cyclin D1", which is necessary for cancer cells to continue thriving and growing. Because of this, EGCG forces cancer cells into a state where they can no longer grow or develop. Usually, this result is permanent.
EGCG also increases the levels of other proteins crucial to the cellular design, making it more difficult for cancer cells to grow.
How to Make a Cancer-Fighting Cup of Green Tea
In promising studies, EGCG has been outlined as the most potent and effective cancer-fighting substance within Japanese green tea. It triggers the activity of certain proteins within the human body that prompt cancerous cells simply to stop growing, or die off completely:
A study of

882 women

found that urinary bladder cancer risk was significantly reduced in women who drank matcha

A meta-analysis of observational studies found that the women who drank the most green tea had a

22% lower chance

of developing breast cancer

A study of 69,710 women in China found that people who drank green had a

57% lower risk

of suffering from issues of colorectal cancer.
According to experts, matcha green tea helps to boost energy, improve immune system function, and inhibit tumor growth. In other words, it not only reduces your risk of cancer, but improves your overall health too!
Japanese Green Tea by UEndure mixes all organic tea leaves with premium grade organic matcha, providing double the antioxidants and health benefits of normal tea.